The US cider market share in 2017 is growing. This episode on Cider Trends in the US and abroad is a replay of a webinar from April 5, 2017 presented by Danny Brager and Matthew Crompton of the Nielsen Company. The webinar was originally aired by the United States Association of Cider Makers (USACM) for their members. The USACM and Nielsen graciously provided Cider Chat with the main recording so that this critical cider trend data could be shared even more broadly.
Danny is the Senior Vice=President, Beverage Alcohol Practice. Matthew is the Associate Client Director at Nielsen. Together they speak during this 53 minute presentation in conjunction with a visual aide that I recommend you download the pdf file below as it follows along seamlessly with the presentation and provides excellent visuals of Danny and Matthews overview.
Click on photo to view the slides the data charts and visual aides that are referred to throughout this presentation.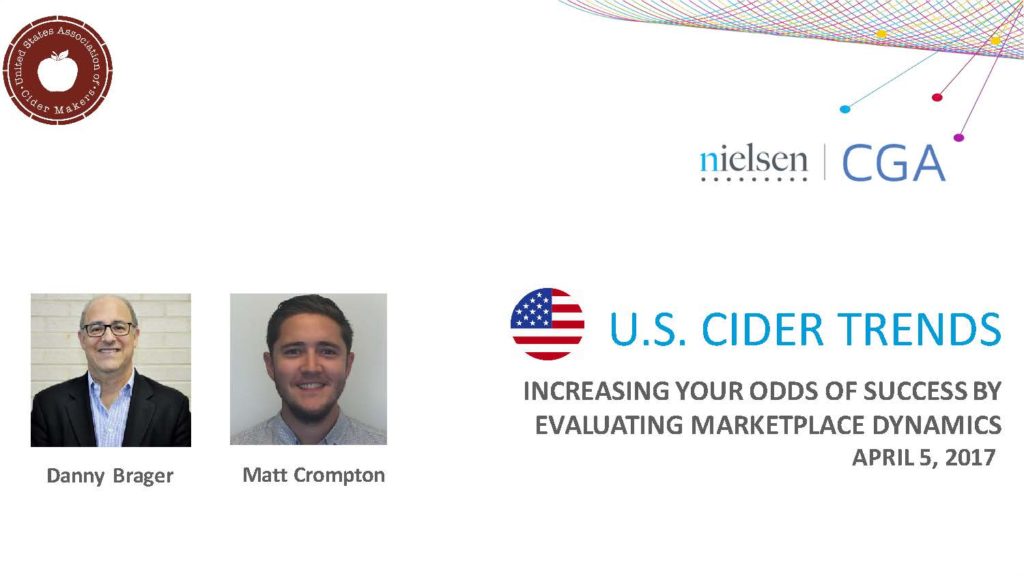 What is covered in the podcast episode?
What does Nielsen do?
How is Beverage Alcohol performing?
How is Cider performing in the market?
What is driving the growth of Cider?
Who is the Cider Consumer and what are they saying?
How is Cider performing elsewhere?
Help Nielsen and the USACM get more data on Cider Trends
Provide UPC/label information around the following.
Nielsen information is used and referenced widely in the industry - not just suppliers, but also by retailers, distributors, media (trade and consumer), industry associations, investment firms, etc. Nielsen wants to ensure that their reported data is accurate, and complete, inclusive of all Cider products in their reporting when it passes a store scanner.
How to help?
If you are selling through retail, you can help Nielsen tell YOUR brands and the HARD CIDER story by ensuring that they have your products coded on their data base.
STEP 1: Nielsen first needs your UPC list so they can check to see whether they already have them coded. If they do, then no further action is required.
STEP 2: If not, Nielsen will get back to you, and for those products not already coded on their databases.
They need: your products' labels, usually accomplished by simply having you send digital copies of them (clear PDF images of the back and front labels on the bottle and/or can, as well as package flat (e.g. 4 pack, 6 pack, 12 packs, etc).
Everything you send is confidential, and not shared with anyone other than Nielsen associates to ensure proper coding.
email to:
margaret.acquaviva@nielsen.com
Ask for the following 6 #CiderGoingUP Campaign cider supporters - By supporting these ciders, you in turn help Ciderville.
Please Help Support Cider Chat Please donate today. Help keep the chat thriving!
Find this episode and all episodes at the page for Cider Chat's podcasts.
Listen also at iTunes, Google Play, Stitcher (for Android), iHeartRadio and where ever you love to listen to podcasts.
Follow on twitter @ciderchat